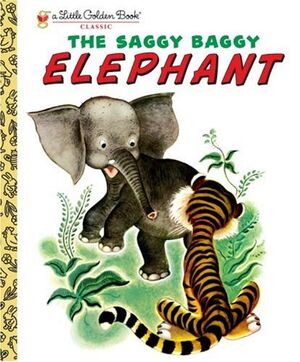 The Saggy Baggy Elephant

Author

Byron Jackson

Illustrator

Gustaf Tenggren
After a parrot makes fun of Sooki's big ears, long nose, and wrinkled skin, the "saggy baggy" elephant isn't too sure of himself. But once he meets some beautiful creatures who look just like him, Sooki celebrates with a joyful "one-two-three-kick." For over 50 years, parents and children have treasured this tale, with gorgeous art by Gustaf Tenggren, the illustrator of The Poky Little Puppy.[1]
Cite error: <ref> tags exist, but no <references/> tag was found
Ad blocker interference detected!
Wikia is a free-to-use site that makes money from advertising. We have a modified experience for viewers using ad blockers

Wikia is not accessible if you've made further modifications. Remove the custom ad blocker rule(s) and the page will load as expected.